Experiential Design and Development
Driving Visitation and Economic Development in the Twin Cities with Unforgettable Visitor Experiences
Veneto Collaboratory partners with clients in the Tourism, Hospitality, Retail and Service-Related Industries on a variety of business development projects.
Our work focuses on collaboration with senior executives and their teams to identify new business opportunities, develop strategies and create new product offerings that drive customer loyalty and generate sustainable results.
Sample Projects include:
Business development assessments.
Destination assessments to innovate tourism landscapes.
New product/experience creation to drive visitation and economic development.
Visitor Center assessments and design.
Design and development of innovative retail experiences.
On-line consumer travel packaging strategies for Destinations and Travel companies.
Sample Project results include:
New, innovative customer experiences that drive revenue and customer loyalty.
Enhanced customer experience that engages clients, creates loyalty and generates lifetime value.
Transformation of tourism landscapes that drive visitation and economic development in multiple markets.
Enhanced customer engagement that extends average length of stay, increases spending and drives repeat visitation.
Increased customer engagement that drives on-line reviews.
All
Assessments
Experiential Design
Experiential Development
Multicultural Tourism
Vacation Packaging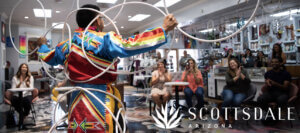 Veneto Collaboratory was tasked with innovating Scottsdale's tourism landscape with new experiences that assist tourism attractions as well as local businesses on the road to recovery.
View Project Details

→