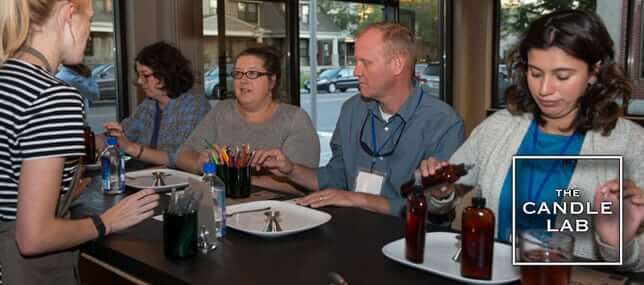 Re-inventing Retail Experiences
Business Challenges
Veneto Collaboratory was tasked with growing the Candle Lab's business and customer base by developing new immersion experiences to drive customers and revenue.
Solution
Veneto Collaboratory designed Wax, Wicks and Wine, an immersion experience at the Candle Lab location in Worthington, Ohio. Customers create their own custom scent and pour a soy candle. While the candle is drying, participants go next door to the House of Wine for a custom wine tasting where they select from multiple vintages.
Outcome
From  2010-2014, Wax, Wicks and Wine generated between $35,000 to $50,000 of incremental revenue annually for the Candle Lab. With the growth of the Candle Lab to additional locations, annual revenue from the experience now average between $150,000 and $175,000. The Candle Lab customer base changed from an individual consumer market to adding multiple group segments. These include Conventions, Meetings, Group tours, local groups, social clubs and fundraising groups.
Wax, Wicks and Wine also helped the Candle Lab expanded its offerings with other local Worthington businesses. This expanded market model has resulted in the growth of the business; there are now five Candle Lab stores along with many private-label venues around the country.
Joe's work helped us transform our experience and significantly expanded our business. This has created new stores and market opportunities. Our business has thrived!